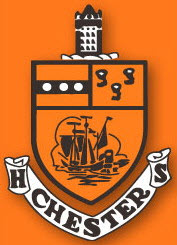 By Terry Thomas
The return to the Clip Joint is just what the Clippers needed as they breezed past the Reading Red Knights 67-36.
Chester started with an energy level that had been missing in the first five games of this young season. Khaleeg Campbell, Marquis Collins and Keyonte Watkins each knocked down a trey and a bucket and Chester made a 15-3 run to start the contest. Jamar Sudan and Stanley Davis each contributed a first quarter basket and the Clippers lead was 19-5 at the end of the 1st quarter.
The Clippers stayed in cruise control with a 6-0 run to start the 2nd quarter forcing the third Reading timeout of the first half at the 5:44 mark. Chester – 25, Reading – 5. The Red Knight seemed to find their mark the remainder of the quarter as they cut into the margin. Halftime: Chester 33, Reading – 16.
The Clippers regained their focus in the third led by Watkins who scored 7 of his game/season high of 19 points. Campbell drained another trey to complete his scoring at 11 points and Collins connected on two pull-ups for his final 9 points of the contest.
In all Chester outscored their opponents 21-11 to double-up Reading 54-27 at the end of the 3rd quarter. Sophomore Jordan Camper got the crowd excited with a thunderous two-handed dunk as he finished with a season high of 9 points. Junior Juanir Moore also joined the dunk party and added four points to the team's total and hauled in a season high of 9 rebounds. Sophomore Ahrod Carter knocked down a short jumper and Davis connected on 1 of 2 free throws to finish with 5 points. Junior Khaleeq Campbell matched his season high with 5 of the team's 15 assists on 28 made baskets.