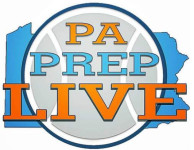 By Bruce Adams
After scoring 25 points in Westtown's 64-49 victory against Episcopal Academy in the Pa. Independent Schools Athletic Association boys' basketball championship game Saturday evening at Malvern Prep, Moose senior Brandon Randolph reflected on his team's second consecutive PAISAA title as well as the final game of his illustrious high school career.
"When the [final] buzzer sounded, it was crazy," said Randolph. "I was thinking how we made history, we won it again, and it was great to see how much all of [our teammates] had grown during my time here."
Senior teammate Anthony Ochefu added, "This championship meant so much, winning it back-to-back with this group of seniors, and seeing how far we have come [in the last few years]."
Episcopal Academy (18-11) proved a tough foe for Westtown 32-2) in the final, and the Churchmen took a 32-30 lead with 3:42 left in the third quarter.
"I wasn't surprised [that EA was leading]," said Westtown head coach Seth Berger. "We couldn't run [at that point] — EA's transition game was awesome and they were very patient on offense. EA is a talented and well-coached team. But then our talent took over, and [our players] turned it on."
The talented Westtown squad responded with a 23-4 run that gave the Moose a 53-36 lead midway through the fourth quarter.
Westtown, with a roster stacked with talented Division I level players, has been drawing large crowds as of late, and Saturday evening at Malvern Prep was no exception. Once the gym was filled to capacity, would-be attendees had to be turned away.
(click on this link for the full article)