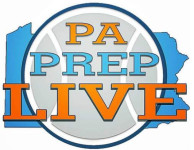 By Bryan Davis
Taj Asparagus wanted to make sure things didn't get out of hand for West Chester Rustin.
The Golden Knights saw what was once a 14-point lead evaporate quickly against Glen Mills in the fourth quarter, which was caused by four straight turnovers.
With Rustin clinging to a two-point lead, it was up to Asparagus to stop the bleeding, as Rustin pulled away late for a 57-50 victory over No. 12 Glen Mills in a District 1 Class 5A first-round game Tuesday.
"The only thing going on in my mind was 'We got to stay sharp, stay clean, no turnovers,'" Asparagus said. "We had to keep the pressure going since we were getting a lot of layups off of that."
Asparagus took his own advice with three layups of his own in the fourth quarter, scoring seven of his 16 points in the final frame as No. 5 Rustin finished off the Bulls. Once Glen Mills cut the deficit to 43-41 on a steal and finish by Wayna Smith, Asparagus responded with a jumper to put Rustin up 45-41 with 4:03 remaining.
Myron Sanders respond with a layup of his own to cut the deficit back to two. After Brandon Frazier hit 1-of-2 at the line to make it a three-point lead, Asparagus stole the ball to Glen Mills's ensuing possession and went crosscourt for an easy layup to put Rustin ahead 48-43 3:10 to play.
Cooper hit a layup to cut Rustin's lead to 50-47 with 1:41 to play, but Asparagus took advantage of a one-on-one matchup on the Golden Knights next possession for a drive and finish to put Rustin up 52-47 with 1:15 left.
(click on this link for the full article)