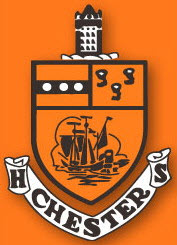 By Terry Thomas
After trailing 19-18 after the first period, the Clipper outscored the J. P. McCaskey Red Tornadoes 56-29 in the final three periods to even their record at 1-1 with the 74-48 win.
With just 2:56 off the clock, Chester's 6'8″ senior Maurice Henry found himself saddled with two quick fouls after scoring 3 of the Clipper first 4 points. His replacement 6'6″ junior, Juanir Moore, saw the same fate but he was only on the floor for 55 seconds. The Clippers then called on 6'7″ sophomore Jordan Camper to fill the middle. In the opening frame, he scored 2 points, grabbed 3 rebounds and blocked 1 shot. Led by junior Khaleeq Campbell's 5 point, the other four Clipper guards did the remaining of the scoring as Chester found themselves trailing 18-19. Chester began to find their range in the 2nd period led by 6/7″ sophomore Marquis Collins who drained two treys for 6 of his team high 12 points. Sophomore Ahrod Carter contributed his 5 points and junior Jahmi Bailey added 3 of his 7 points enabling the Clippers to take a 37-31 lead at the intermission. By putting eight players in the scoring column in the 3rd period led by sophomore Camper and 6'5″ wing Jamar Sudan who each scored four points, the Clippers outscored their opponents 21-10 to take a 58-41 lead into the final period. The third quarter came to an end as junior Stanley Davis banked a trey off the glass as the buzzer sounded. Davis would finish with 6 points for the game. Maurice Henry made his presence felt early in the fourth scoring 7 of his 11 points. And defensively, the Clippers held the Red Tornadoes to just seven points. Chester put 10 of their 11 players who played in the scoring column.
While leading the team in scoring with 12 points, Marquis Collins haul of 7 rebounds was 2nd to Jordan Camper's 8 rebounds. Collins also finished with 4 assists. Khaleeq Campbell padded the stat sheet with 7 points, 5 assists, 5 steals and he created 7 turnovers. Jamar Sudan, Keyonte Watkins and Jordan Camper each finished with 8 points on the night. Juanir Moore completed Chester's scoring with 2 points.
Chester travels to Reading High School on Friday, December 12th to take on Berks Catholic in the Hoop Group Event. Tip-off for the game is slated for 6:30 p.m.