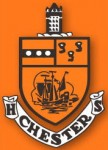 By: Terry Thomas
Chester held off the host Glen Mills Battlin' Bulls 53-48 to improve to 8-2 overall and 1-1 in Del Val League play.
Trailing after the first three quarters, the Battlin' Bulls were true to their name as they managed to take a 5 point lead (46-41) with just under six minutes to play in the final period. A combination of Clippers defense and bad foul shooting (2 for 6) in the final period cut short any chance for a Bulls upset. While on the other hand, it was outstanding foul shooting by the Clippers that sealed the victory.
Chester connected on 20 of 24 (83.3 %) from the charity stripe for the game. They were 3 of 4 in the first quarter, 9 of 10 in the third and 8 of 10 in the decisive fourth. Senior shooting guard Mahir Johnson finished with a game high 20 points including going 7 of 8 from the line in the third quarter. His trey in the fourth gave the Clippers the lead at 48-46 with just over two minutes in the contest.
Senior point guard Conrad Chambers connected on both ends of a 1 and 1 followed by sophomore Khaleeq Campbell hitting both of his (his only 2 points of the afternoon). Senior Tyrell Sturdivant finished the scoring by hitting 1 of 2 free throw attempts. He would finish with his ninth double double of the season, 12 points and 15 rebounds. The other Chester scorers were Chambers (6), senior Gabe Adesina, sophomore Marquis Collins and junior Keyonte Watkins with 4 apiece, and finally 6'1″ sophomore Jahmi Bailey with 1 point and 2 blocked shots.
Chester returns home to the Clip Joint on Thursday, January 16th with Del Val League opponent Interboro Bucs.