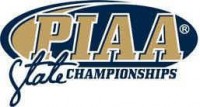 By Bob Grotz
Down three points with 10.5 seconds left in regulation and the season on the line, Chester High had upstart Crestwood High right where it wanted it Friday night.
That would be freshman Kyree Womack at the free throw line shooting three after getting fouled attempting a desperation trey in the PIAA Class 5A quarterfinal at the Clip Joint.
Now, the Clippers weren't exactly cashing in at the free throw line on this night. They missed almost as many as they made. One look at the box score and you knew coach Keith Taylor was going to tear every last hair out of his head lamenting, if we only made just two more here, just one more here, and another here.
"He makes all of his foul shots at practice," said Karell Watkins, who contributed 19 points, 11 rebounds, two steals and a blocked shot. "We've got to make foul shots before we leave practice and he always sends us home. If he makes them, we go home."
On this night, it would be the Comets going home disappointed because of Womack, who calmly went swish, double-doink and in, and on the third shot, gently off the iron with a kiss of the backboard, tying the game. That enabled the Clippers to prevail in overtime, 58-52.