By Matthew DeGeorge
The state tournament doesn't permit much time for reflection, when after weeks of waiting for it to begin, the schedule jams three games into seven days.
But first-year Bonner & Prendergast coach Kevin Funston found a moment of peace Saturday, in the hours after his team's PIAA Class 4A quarterfinal handling of Catholic League rival Archbishop Carroll.
"I was over the moon," Funston said of the 82-57 victory. "I told the team the next day, 'that was probably the most fun I've had being a coach, from assistant to head coach,' just because of how unselfish we played, how much we bought in on the defensive end, just how everybody contributed. I saw a video of our bench after somebody scored, and it looked like a college bench, celebrating, cheering each other on. It was a really great moment for me as a coach."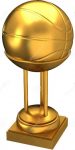 The Friars could have two more chances to celebrate, starting with Monday's collision with District 1 champion Lower Moreland at Plymouth Whitemarsh at 7:30.
The winner of that contest books a trip to Hershey for Thursday night's state final, against the winner of Imhotep Charter and District 10 champion Hickory.