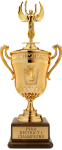 By Rick O'Brien
Behind spark plug and dynamic scorer Tyler Norwood, Penncrest advanced to Tuesday night's Central League boys' basketball final.
But the Lions' quest for their first league crown since 2010 fell short when Lower Merion's Steve Payne sank a right-side runner high off the glass with 2.6 seconds remaining, giving the Aces a thrilling 48-46 triumph at Harriton and their second straight title.
"Getting here for the first time in my high school career was great but not winning it really hurts," Norwood said. "It stings, no doubt."
An excellent penetrator with a solid pull-up jump shot, Norwood finished with a game-high 19 points, four rebounds, two assists, and a steal. He accounted for seven of his squad's nine fourth-quarter points.
Lower Merion used a box-and-one on Norwood most of the way, with 5-foot-11 guard Darryl Taylor shadowing the 5-9, 165-pound senior.
"They did the same thing they did the first time we played them," Norwood said of the Aces' 67-59 home win on Jan. 12. "We prepare for that and me being double- and triple-teamed in practice all the time."