By Jaiden Campana and Corey Sharp
The final weekend of the PIAA basketball season is here, and eight local teams have the opportunity to finish their season with a victory and a state championship.
Here is a look at the seven games — two locals play each other — scheduled for Thursday, Friday, and Saturday. All games will be at the Giant Center in Hershey.
Thursday, Class 4A boys: Bonner-Prendergast vs. Imhotep, 8 p.m.
Familiar faces meet again in this game as the teams repeat their District 12 championship game.
A missed desperation halfcourt heave by Imhotep at the end of overtime was all that separated the teams in the first meeting. Since then, the Imhotep Panthers have rolled through the playoffs, beating teams by an average of 21 points even without 6-foot-7 Maryland recruit Donta Scott in the semifinals against Hickory. Now, Scott is back and can end his high school career with a third consecutive state title.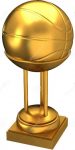 Bonner-Prendergast's Isaiah Wong, a Miami recruit, notched a double-double against Imhotep in the District 12 final, scoring 17 points and grabbing 10 rebounds. He's been contributing on both ends of the court throughout the state playoffs. Against Nanticoke in the second round, he had 11 points and nine boards. In the semifinal win against Lower Moreland, Wong had 10 points and eight rebounds, along with two blocks.
(click on this link for the story on all PIAA final contests this weekend)