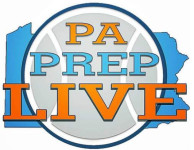 By Steve Moore
The Sun Valley boys basketball team dropped its first two games of the season last weekend, shooting a frigid 11 percent from the three-point line. 
The Vanguards found their range Thursday night. And upstart Kennett was the unlucky victim.
Sun Valley shot a torrid 20 for 39 from the field and drained seven 3-pointers as the Vanguards stayed perfect in Ches-Mont League play with a decisive 65-38 American Division win over Kennett.
Sun Valley (4-0 Ches-Mont American, 9-2 overall) leading scorer Vinny DeAngelo led all scorers with 22 points, despite sitting out the final two minutes of the first half and the first four minutes of the third quarter with foul trouble. But when his number was called in the second half, DeAngelo came rocketing off the Sun Valley bench, and scored 17 second-half points to lead the Vanguards to the win.