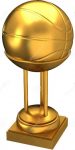 By CoBL Staff
Here's a look at Friday's games featuring area teams, as well as a couple others to watch (district-seed, record in parenthesis):
Class 5A
Bonner-Prendergast (12-1, 24-4) vs. Allentown Central Catholic (11-1, 25-4)
Geigle Complex, Reading, 7:30 PM
Back in the state quarterfinals for the first time since four-time all-state choice Muhammad Ali Abdur-Rahkman was still in ACC duds (2014) and not yet in a Michigan uniform vying for Big Ten and NCAA championships, Dennis Csensits' Vikings' needed two overtimes to squeeze past Dallas 61-59 in Tuesday's second round. Chad Kratzer's two free throws with 5.7 seconds remaining provided the game-winning points and pushed the East Penn Conference squad another round deeper. Seniors Jay Vaughan and Keeshawn Kellman netted 15 points apiece to lead ACC, while the 6-1 Kratzer wound up with 11. The 6-8 Kellman, headed for prep school, added 10 rebounds. Balanced up and down the lineup — ACC has six players averaging between 7.5 and 12.6 points per outing — these guys will dial it up from deep. Nick Filchner (9.6 ppg), a 6-3 sophomore, has canned a team-high 3-balls, while the 6-0 Vaughan (10.9) has pocketed 58 and 5-10 senior Dat Lambert (12.6) has knocked down 57. Lambert was bugged by foul issues in Tuesday's second-round skirmish and only netted three points. While Kellman (8.9) works almost exclusively in the paint, ACC's other perimeter threats include 6-3 senior Jordan McChristian (7.7 ppg/36 treys), 5-10 junior Sam Vaughan (2.0 ppg/15 treys) and Kratzer (7.5 ppg/12 treys). Kevin Kern, a 6-4 senior, lends help inside.