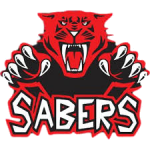 The Chester Charter boys high school basketball team improves to 2-5 on the season after beating Lincoln Leadership Charter (Allentown), 76-43, Thursday night at the Saber Gym.
Kevin Miller, super sophomore 5'9 guard, led the Sabers with 15 points.
Kevin is younger brother of Chester High outstanding football player Scrap Miller.
Sean Deshields, 6'5 senior, scored 12 for the Sabers.
Scoring ten points each for Chester Charter was Davon Stovall, 5'11 senior, Timmy Evans, 6'3 senior and Jaquan Fisher, 6'6 senior.
Zach Howard, 6'5 sophomore, scored his first two varsity points.  Zach is son of Chester High standout Galen Howard, who was the center on the 1989 Clipper PIAA state championship team.