By Matthew DeGeorge
On Keith Heinerichs' Xs and Os board, there are certain things you can diagram. Matching up with someone who stands 7-foot-2 – or 7-3, or 7-4, depending on the listing – isn't exactly in the arsenal.
So when Heinerichs' Haverford team squares off with Plymouth Whitemarsh, anchored by gargantuan center Naheem McLeod, in the first round of the District 1 Class 6A playoffs Friday, the Fords will do their best to limit the Colonials' vertical prowess.
"I don't think you do," Heinerichs said about handling such height. "I don't think there's an answer to stopping someone of that height. I think it's a game plan where it's about team defense. It's not only him. They've got two other 6-7 kids in their lineup. It's daunting. I haven't seen a front lineup (like that) since Glen Mills in the 1980s."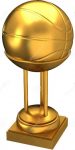 Heinerichs shares those plans without intimidation in his voice, though. Yes, the 22nd seeded Fords (12-9) have a tall task at hand with a nucleus making its first playoff appearance. But the Fords are embracing it, even if their front line is similarly ambiguous in terms of height, albeit at a lower altitude.