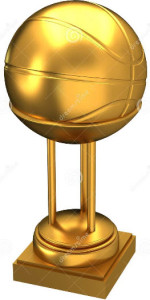 By Josh Verlin
For anything to happen other than Archbishop Wood hoisting the PIAA Class 5A trophy at the conclusion of Friday night would mean Meadville would have managed to find a way to get one of the most confident and most consistent teams in the state off its game.
It didn't happen.
Not even for a minute.
A Vikings squad that set sky-high expectations with impressive early-season play lived up to them through the final game of the year, putting on a dominant performance against the Bulldogs, capturing the program's first state championship with a 73-40 win.
"It's crazy, it's always a dream of every kid playing high school basketball, especially in Pennsylvania, to get here and win on the biggest stage there is, and we did it," senior Matt Cerruti said afterwards. "Pretty good feeling to go out, last game for our four seniors of our career, to win the state championship, you can't really describe that."
"We worked hard for this all summer, all year, and it just feels good to go out on top," senior Collin Gillespie, the Vikings' stalwart Villanova commit, said with his typical stone-faced expression.
(click on this link for the full article)