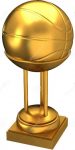 By Matt Smith
Ben Stanton knew he had to seize the moment and be the hero.
Midway through the fourth quarter, Penncrest was beginning to wonder if it had enough left in the tank to beat crosstown rival Strath Haven. Somebody on the Lions needed to make a play when a once cozy, double-digit lead nearly evaporated.
The malaise began to set in during the middle quarters. Although the Lions were ahead comfortably on the scoreboard, there was a sense in the building that Haven was bound to go on a run.
The Panthers made things interesting and Penncrest almost unraveled. Even respected veteran head coach Mike Doyle, as cool as they come, briefly lost his composure when he received an unwarranted technical foul after one official failed to acknowledge his obvious call for a timeout.
It was the first time Doyle had been teed up in 11 years. The technical occurred immediately after Haven's Luke Edwards stole an in-bounds pass and scored a layup to trim the Lions' advantage to four points with 24 seconds to go.
"We needed a timeout there and I thought that was a really good call by our coaches," said forward Justin Potts, who came up with a key defensive rebound in the final minute. "We just needed to relax."
Webmaster's note: The Central League Boy's and Girl's Basketball Championships on February 11th will be audio broadcast LIVE right here on Delcohoops.com!