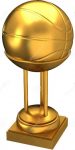 By Bob Grotz
For much of Saturday afternoon it was one of those games where points were scarce and only the clock moved.
When the math was complete the Haverford girls exited with a 38-23 victory over Radnor in the Central League basketball quarterfinals at Garnet Valley High. It was as dominating a defensive performance as you could hope for in a playoff setting.
"We're used to that pace because we know we play mostly a defensive game," said Fords junior Chiara MacGillivray, who scored 10 points. "Our strength is on defense. If we're going to create on offense, it's going to start at the defensive end. That's really where we get all our energy. We were able to work as a team to get stops."
The Fords (15-9) take on top-seeded Springfield in the semis Monday.
The way the Fords played in-your-face defense Saturday, it's hard to believe the Cougars got enough of a look to beat them via a buzzer-beating three-pointer in the regular season.
Ellie Mueller, the 1,000-point scorer, scored 10 points for the Raiders. Teammate Brienne Williams was limited to six points.
Webmaster's note: The Central League Boy's and Girl's Basketball Championships on February 11th will be audio broadcast LIVE right here on Delcohoops.com!