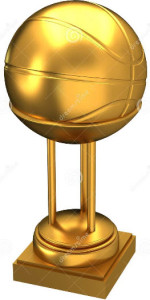 By Michael Bullock
Waiting for head coach Carl Arrigale to join them in their Giant Center locker room before they really cut loose, Neumann-Goretti's basketball-playing Saints had a plan in place when their remarkably successful skipper finally arrived.
Yep, the ice bucket still was sporting plenty of the wet stuff.
And while the game plan was to lay in wait for the suspecting Arrigale to enter before unloading the jug's chilly contents, a giddy bunch of Saints failed in their first attempt to drench their head coach. Honestly, it was the only thing N-G didn't convert all night.
Or so it seemed.
"We picked the wrong guys to do it," cracked laughing senior Zane Martin.
With Martin bucketing 33 points and Quade Green nearly popping a triple-double (25 points/9 rebounds/8 assists), hot-shooting Neumann-Goretti spent Friday night peppering Mars 99-66 en route to its third straight PIAA Class AAA boys' basketball championship and its sixth state title in seven seasons.