By Aaron Carr & Daniel Gallen
Delayed but not denied, it's finally time for the PIAA basketball championships. Weather moved the 12 title games from a Thursday-Saturday schedule to a Monday-Wednesday slate at the Giant Center in Hershey, but it shouldn't diminish the expected quality of the matchups, which cap four months of high school hoops.
So who will be the 12 teams standing with championship trophies and a five-pound chocolate bar on the Giant Center floor?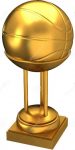 PennLive reporters Eric Epler, Aaron Carr and Daniel Gallen made picks for all 12 games, and fans can pick their winners, too, in polls listed after the picks and analysis for reach game.
Here is everything you need to know as the end of the high school basketball season finally tips off.
(click on this link for all the match-ups and your chance to pick the winners of each game)