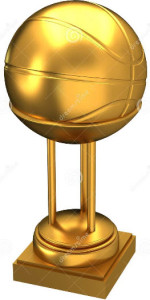 By Graham Foley
Penncrest is a team of role players.
Each player on the squad has his own specific duty that comes together to form a tremendous basketball team. 
"In this day and age of me, me, me, this team is clearly just 'we,'" head coach Mike Doyle said. "We have four guys who are all filling in their roles and playing as hard as they possibly can on every possession. To try to score against us is really, really hard."
Penncrest took down Upper Merion on Saturday afternoon at Villanova's Pavilion by a score of 39-37 to capture the District 1 5A Championship, overcoming a 10-point deficit in the third quarter. The Lions were led on offense by junior guard Tyler Norwood, who finished the day with 26 of the team's 39 points.
"I'm just really excited for our team, for the community," Norwood said. "We kept battling, our defense picked up and we got the job done."
Norwood himself fills the role as the team's go-to scorer. He shot 4-of-8 from beyond the arc and hit three vital 3-pointers in the fourth quarter. In the second half, he had 18 of the Lions' 24 total points.
"For me, when we need a basket, they call, they look at me, I do what I can," Norwood said. "I do play defense once in awhile but offensively scoring is my role."
(click on this link for the full article)
(Webmaster's note: The Upper Merion vs Penncrest Championship game was our Game-of-the-Week and can be heard on our Archives link on the left hand side of the page.)