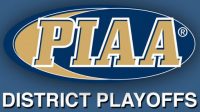 By Jack McCaffery
Rap Curry was a college freshman when first he met Mike Doyle, then a graduate assistant basketball coach at Saint Joseph's University. The relationship was bound to endure. The great Philadelphia basketball bonds always do.
That's why Curry, the athletic director at Penn Wood, knew what he had to do Wednesday night, before his Patriots would play Penncrest, coached by Doyle, for a spot in the District 1 Class 5A final.
"I told him I loved him," Curry said. "And it's great seeing him do his thing."
Doyle did his thing, keeping Penncrest close, calling plays, working the officials, taking a great Delaware County basketball game into the final minutes before Penn Wood would win, 56-51. Soon, the Lions, who have been to at least the semifinals every season since 2017, will be in the state tournament for the sixth time in seven years. Doyle's program is solid. So is Matt Linedman's at Penn Wood. Delco basketball is always deep. That never changes.