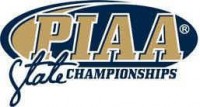 By Stephen Miller
Anchored to the bench after collecting four first-half fouls, Anquan Hill reassured Archbishop Carroll coach Francis Bowe at halftime.
Hill would sit as long as Bowe saw fit and provide encouragement from the sideline. When his chance to return to the floor came, he wouldn't waste it. 
Hill checked in to start the fourth quarter with the Patriots trailing Bethlehem Catholic by two points. He scored Archbishop Carroll's first nine points of the quarter to set the stage for a taught finish. 
Freshman Dean Coleman-Newsome delivered the shot that extended the Patriots' season, connecting on a 3-pointer with 29.3 seconds to play. Archbishop Carroll then survived a 3-point try by Bryan Santana that came up short and a last-second heave from Julian Thomas to escape with a 46-44 win in a PIAA Class 4A boys basketball first-round game Friday at J. Milo Sewards Gymnasium in Allentown.