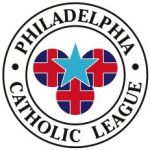 By Rich Flanagan
Lynn Greer III had gone through this moment in his head numerous times before.
The clock was winding down and he was going to be facilitating the offense on his team's final possession. He recalled practices in Roman Catholic's historic gym on the school's third floor where he would take the ball end-to-end with only seconds remaining. For a player who had started 23 games as a freshman and was named a finalist for the 2017 USA Basketball Men's U16 National Team, he had not yet had the ball in his hands in the closing seconds.
That all changed on the floor of the Palestra in the Philadelphia Catholic League championship game.     
With seven seconds remaining, Greer drove and found teammate Hakim Hart for the go-ahead basket to seal Roman Catholic's 51-49 victory over Bonner-Prendergast and clinch the program's third league title in four years. The Cahillites began their final possession with over 1:20 remaining on the clock but took as much time off the clock as possible to get off the final shot.