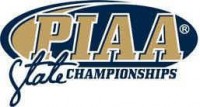 By Matt Smith
The low point in Springfield's season came during Christmas break.
While many of their Central League cohorts were at home, the Cougars challenged themselves by competing in the Cardinal O'Hara Christmas tournament, which was by far the top showcase in the county during the holiday season.
It didn't go well for Springfield, suffering defeats to Episcopal Academy and Notre Dame of the Inter-AC League. They should have beaten one of those teams, and looking at the Cougars today, it's not outlandish to suggest they should have won both contests. The poor showing dropped Springfield's overall record to 4-4.
"I think we were doubted a lot this year," senior guard Alyssa Long said, "but we always stuck together."
The Cougars have posted a 19-1 record since Dec. 28. Their only loss came in early February to Ridley in the Central League final.
Coach Ky McNichol got the best of her players after the holidays, culminating last Saturday afternoon at Temple University's Liacouras Center with the District 1 5A championship.
(click on this link for the full story and previews of other playoff games)