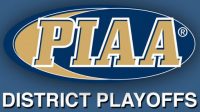 By Matthew DeGeorge
You can call it a District 1 game. You can add whatever classification you want. But make no mistake, what transpired between Academy Park and Penn Wood Wednesday night was first and foremost Del Val basketball.
Twice this season the teams had met, the home team winning by two each time. And through 33 turnovers, 30 fouls and dozens more hard but clean plays in the rubber match, there emerged just enough shot-making to lead the No. 7 Patriots to a 46-38 win over the Knights in the first round of the District 1 Class 5A tournament.
It's only fitting, given the hard-nosed nature of things, that the game's leading scorer entered halftime with just three shot attempts. Jerry Flynn came out for the third quarter not just sporting a new jersey – No. 25, after a cut on his right arm had blood-stained his usual No. 10 – but with a renewed commitment to get involved on offense.
Flynn hit all three of those attempts in the first half to stake Penn Wood to a three-point lead. But after the break, he asserted himself on more than just the offensive glass.