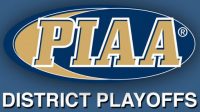 By Jack McCaffery
Just before Radnor was about to lose its only playoff basketball game last season, the key juniors were removed from the game.
The thinking began at that point.
It has yet to end.
So it was on the eve of what would be a 50-41 first-round victory Wednesday over visiting Upper Moreland in the PIAA District One Class 5A tournament that the Raiders' captains would recall that scene one last time.
"We were down double digits, about a minute left, at Unionville," Jack d'Entremont would recall. "I just remember that feeling. We said we would not go through that again. So we really used that to motivate us tonight to get the job done."
That pregame conversation involving d'Entremont, Pat Boujoukos and Josh Savadove resonated and the Raiders responded, taking an early lead, keeping command for most of the game, holding off a tidy Upper Moreland fourth-quarter rally and earning a quarterfinal date Saturday at top-seeded West Chester East.
The rangy, 6-5 d'Entremont, who is receiving intense interest from several Division 3 programs, scored 22 points and used his length to key multiple successful Radnor defenses.