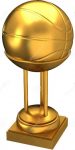 By Matthew DeGeorge
There weren't many mysteries between Garnet Valley and Marple Newtown in Tuesday night's Central League playoff semifinal.
The teams played last week, a two-point Garnet win. They played earlier in the season, though the Tigers have made huge strides since. And they're two teams that rely on crisp ball movement, veteran play at the point and wings and 3-point shooting to open space in the half-court.
So Tuesday's meeting was as much about getting a familiar opponent out of its game plan as it was settling into its own.
On that score, Garnet Valley did the better job, the No. 2 seed using 20 points from Carl Schaller to tally a 44-39 win and move on to Thursday's championship game. The job was done primarily defensively, as Garnet Valley forced the sixth-seeded Tigers into a 12-for-43 shooting night that halted a run of six wins in seven games
"We knew what they were about and we knew their players," Schaller said. "I think as you play teams over and over again, it gets harder to score because they know you, too. There were adjustments on both sides, but we got it done."
(click on this link for the full story and more game scores)