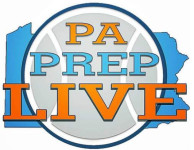 By Matthew De George
Colin Daly didn't give a second thought to his routine after missing the first of what he thought to be two free throws early in the fourth quarter Friday night.
Nonchalantly, with Daly assuming a second attempt was coming after he was hacked under the rim, the Archbishop Carroll senior guard calmly took two steps into the lane, grabbed the carom off back iron, unhindered by the players in the blocks. Instead of returning the ball to the ref, Daly casually flicked his wrists, sending the ball into the hoop.
About the time the shot swished home, everyone else on the court realized that Daly's post-shot drill was with a live ball, and that he had cashed in a free offensive board and second-chance bucket offered by a Bonner & Prendergast team caught unaware.
"I think the announcer said two shots or I don't know why I thought it was two shots," Daly said. "So I was just doing a practice shot to make the second one, but it was one-and-one so it counted. No one boxed me out."
(click on this link for the full article)