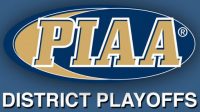 By Bill Rudick
Top-seeded West Chester East jumped out to a big early lead against No. 8 Radnor, then cruised to a decisive 68-48 victory in front of a capacity home crowd Saturday in the quarterfinals of the District 1 Class 5A championships.
With the win, the Vikings (22-2) move on to the semifinals against Rustin, a 62-51 winner over No. 4 Unionville, and guarantee themselves a return trip to the state tournament.
"I'm a senior, so for my last season, I really wanted to get another chance to play in states, so to know we're going feels great," said the Vikings' Tym Richardson. "We also still have a shot at a district title, and after losing in the finals last year, it shows the kind of work we put in (during) the offseason to be in a position to get back to the finals. Winning one this year as a senior would be a great way to go out."
Richardson had a great night, matching his jersey number with 21 points, 18 from the field and a perfect 3 for 3 from the line. But for Richardson, it was the job he and his teammates did on the other end that spelled the difference.
"We work hard on defense," Richardson said. "We believe that defense turns our offense. We knew we had a size advantage, and we took advantage of it."
Behind that defense, the Vikings opened the game on a 17-2 run, and led 19-7 at the break. They never looked back.