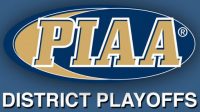 By Bob Grotz
It only seemed like the Garnet Valley boys' basketball team qualified for the state basketball tournament for the first time ever following its 68-53 triumph over Upper Darby in the Class 6A playbacks Tuesday night.
While the Jaguars reached the dance in 1997, 23 years is an eternity, especially contrasted with a girls' program that has a state final and a District 1 title in its recent past.
The next step for the Jaguars (22-4), the second seed in District 1, is a state seeding game Friday against North Penn, the 24th seed. North Penn defeated Central Bucks East, 46-43. It was their third straight road victory in the playbacks.
But back to the Jaguars, who never trailed after Neel Beniwal buried the first of his four 3-pointers in the first minute.
Beniwal scored a game-high 21 points to take the scoring burden off star guard Carl Schaller, who fouled out despite taking more than he gave, the spark plug having to switch from No. 2 to 32 when his shooting wrist leaked blood in a contest with 37 fouls.
"We knew we had to win to get into states," Beniwal said. "We all brought it today. We've been bringing the effort every game but we've been struggling to shoot. But today we were all making shots and we were all sharing the ball. It was fun."