PENNCREST 49, ST JOSEPH'S PREP 44>>Denzel Atkinson-Boyer had a career game, scoring 15 points and grabbing 12 rebounds as Penncrest upended St. Joseph's Prep, 49-44, at the Jameer Nelson Classic at Widener University Monday.
Saahir Lee added 11 points and five assists, and Marquis Tomlin chipped in 10 points as the Lions (9-1) trailed by eight points after one quarter but prevailed in a game that was tied after three stanzas.
Trevor Wall led Prep with 13 points, and Mike Keenan hit four 3-pointers for 12 points.
Also at the Jameer Nelson Classic:
CHESTER 58, HAVERFORD SCHOOL 55 >> Karell Watkins and Akeem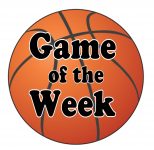 Taylor scored 17 points each, and Zahmir Carroll added nine points as the Clippers pulled out a back-and-forth win. Taylor was named the game MVP.
MJ Atkins led four Fords in double-figures with 13 points. Zach Genther chipped in 12, Matt McKenna added 11 and Tyler Seward had 10 points.
Webmaster's note: The Chester vs Haverford School game was our Game-of-the-Week and can be heard in its entirety below or on our Archived Broadcasts link listed in the menu at the top of our page.
At the Boardwalk Classic:
EPISCOPAL ACADEMY 53, PAULVI42>>Colin Chambers hit five 3-pointers to go off for 17 points in the Buzzy Betz Memorial Showcase.
Alex Capitano led all scorers with 18 points. Andrew Alikakos chipped in eight points, five rebounds, four assists and four steals for the Churchmen (5-8).
BETHLEHEM FREEDOM 73, ARCHBISHOP CARROLL 62 >> Anquan Hill scored 15 points and hauled in 17 rebounds, but a slow start led to the Patriots trailing by as many as 19 and getting tagged with their first setback of the year in the championship game of the Chickie Ludman Memorial Bracket.
Dean Coleman Newsome added 15 points, 10 rebounds and four assists. John Camden chipped in 19 points for the Patriots (7-1). At the Steve Juenger Memorial Tournament:
COUNCIL ROCK SOUTH 57, HAVERFORD 56 >> John Seidman scored 24 points to land on the all-tournament team, and the Fords whittled a seven-point deficit down to one in the final seconds, but they couldn't get the win in the championship game.
Hunter Krazia scored nine points, and John Schievert and Adam Stuck contributed eight points each.
CHICHESTER 66, KENNETT 49>> Josh Hankins hit three 3-pointers and scored a game-high 28 points to earn a spot on the all-tournament team and stake the Eagles (5-4) to a 17-point lead after one quarter in the consolation game.
Andrew Monroe (10 points, seven rebounds) and Ousmane Fofana (eight points, nine rebounds) did the work in the post for Chi.