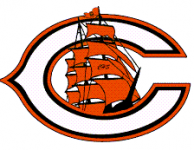 By Terry Thomas
Chester remained undefeated in Del Val League action with a convincing 81-43 victory over the visiting Interboro Bucs. The win put the Clippers at 7-1 overall and 5-0 in league play. Senior Karell Watkins led the way with a career high 43 points. He pulled down rebounds bring his career total to 706 moving him ahead of Rahlir Jefferson (705). Meanwhile, senior Fareed Burton Jr had a career day posting his first triple double with 17 points, and career highs of 12 assists and 11 rebounds. He also tied his career high of 5 steals. The twelve assists give him a career total of 121 tying him with Kevin "Yes God" Thomas. Along the way he leaped over Jamar "Solo" Shaw, Justin Jones, Damien "Twin" Hunter, Akeem Taylor Jr, Brahin Pharr and Brian Randolph III.
Tonight's contest was a fast-paced game with very few stoppages for fouls. In fact, there were only 20 fouls call for the game, 13 of which came in the first half. Watkins and Fareed established themselves in the first quarter combining for 16 of Chester's 18 first quarter points. The Clippers led 18-11 at the end of the period. The Clippers let their guards down for a few possessions in the second quarter allowing the Bucs to drain a couple treys while on the offensive end Watkins was putting up 16 points and Fareed dropping in 9. Isaiah Freeman connected on two free throws, freshman Larenzo Jerkins also added two points and fellow freshman Kyree Womack went 1 of 2 from the charity stripe as the Clippers outscored the Bucs 30-12 to take a 48-23 at the half.
Jameel Burton Jr used his court awareness in the third quarter to pick off a career high 4 steals leading to his 4 points. Freeman meanwhile was doing work on the boards and dishing dimes. He finished with 7 rebounds and a career high of 6 assists. His rebound and assist to Watkins at the 5:36 mark gave the Clippers a 56-25 lead invoking the "Mercy Rule". The game was moving so fast the table was being asked "Why is the clock still running when the ball is out of bounds?" They didn't realize Chester was up by over 30 points that early in the 3rd quarter. The quarter ended with Chester ahead 67-36.
With the clock running in the fourth quarter, it resulted in very few possessions. Reserves Yinka Itabiyi and Naeem Scott Jr were able to add their names to the scoring column with a buck apiece. Senior Shaquan Horsey saw limited minutes in his first action since injuring his back on January 28th after a dunk in the win over Penn Wood. Welcome back "Cap".
The team finished with 25 assists on 27 made baskets. The last time Chester recorded 25 assists was January 12, 2008 when the Clippers defeated Ocean Lakes (VA) 95-52 on the campus of Old Dominion University in Norfolk, VA. Larenzo Jerkins gave a sign of what's to come as the freshman tallied 3 rebounds, 3 steals and 2 assists on the night.
Chester will play their final regular season home game on Saturday, February 27th against Philadelphia Public League's Math-Civics-Science Charter. The JV tip-off will be at 1:00. We will be acknowledging our "Seniors" prior to the start of the Varsity game which is scheduled to tip-off at 3:00 p.m. The games will be streamed live via YouTube and Facebook at
CMPRadio.net.