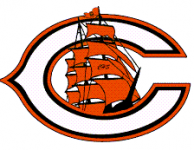 By Terry Thomas
The Chester Clippers (3-0, 2-0) took over 1st place in the Del Val League after handing the previously undefeated Chichester Eagles (5-1, 3-1) their first loss of the season 57-44 at the Clip Joint. Isaiah Freeman led the way in the first quarter with six of his 11 points while Karell Watkins and Qadir Lowrie chipped in with four and three points respectively. Fareed Burton Jr put his offense aside and used the first quarter displaying his defensive skills holding the Eagles leading scorer, Josh Hankins, scoreless. At the end of the first quarter Chester led 13-8.
Fareed caught fire early in the second quarter knocking down two treys and both free throws in a one and one situation to give the Clippers a 10-point cushion 24-14 at the 5:26 mark. He spent the rest of the quarter hounding the Eagles guards. Hankins did manage to score half of his game total of four points in the quarter while Burton finished the contest with 14 points. Meanwhile Watkins showed why he's the reigning Player of the Year dropping in nine points and hauling in nine rebounds. He finished with a game high 17 points and 17 rebounds for his second double-double of the season in as many games. The Clippers lead remained at ten points, 33-23, at the intermission.
The Eagles scored first to open the third quarter and the Clippers responded with an 11-0 run stretching their lead to 19 points, 44-25, after freshman Kyree Womack connected on one of two free throws with 48.7 seconds remaining in the quarter. Chester demonstrated team-work distributing their 13 third quarter points over six players. Lowrie and Burton each contributed three points, Jameel Burton Jr, Watkins and Freeman added two apiece and Womack's free throw completed the scoring. Chichester connected on a trey from the corner and Watkins hit two free throws to close the quarter with Chester leading 46-28.
Chichester once again scored first to open the quarter but Chester responded with free throws from Watkins and a put-back by Fareed giving the Clippers a 20-point lead, 50-30, at the 6:56 mark in the final quarter. Game over.
Seven of the nine Clippers dressed put their names in the scoring column and the team had 10 assists on 16 made baskets with the Burton cousins, Fareed and Jameel, accounting for six. Freeman had another strong showing grabbing six rebounds and taking away three steals before fouling out in the fourth quarter.
The Clippers will continue league play on Tuesday, February 9th with they travel to Glenolden to take on the Interboro Buccaneers with a 5:30 JV tip-off. The Varsity will follow.