Carpenter provides late boost for Haverford in district opener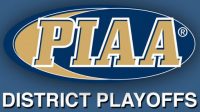 By Matt Smith
The Fords defeated the Indians for the second time this month. Haverford used an 11-1, fourth-quarter run to beat the Indians on Feb. 1. On Friday night, they ended the Indians' season thanks to an 18-5 surge in the final eight minutes.
"We really wanted it tonight," Carpenter said. "In the beginning of the year, it was almost like we were looked down on by a lot of other teams because nobody really expected us to be good or expected us to be here (in the district playoffs). Coming in tonight, we just knew we had to really step up and come out and play together."
After graduating five seniors from last year's crew, they have started three juniors, one senior and freshman. The lone fourth-year member on the team, Katie Redding played outstanding at point guard and hauled in a handful of tough rebounds.
The Fords' best scoring threat is junior Chiara MacGillivray, who battled through some shooting struggles Friday to lead the team with 12 points. She began the game at the free-throw line due to a technical foul (scorebook violation) that was called on the Unionville bench.
(click on this link for the full story)
Webmaster's note: Missed the game? Listen to the entire game on our archive file listed below. Go to our Broadcast Archives page for all game archives.
Podcast: Play in new window | Download