Seidman, Haverford aim to go farther … shiner and all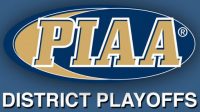 By Matt Smith
John Seidman sported a nice shiner under Friday night.
Haverford's playmaking junior was the recipient of an errant poke to the eye in the Fords' District 1 Class 6A tournament opener with Ridley.
Seidman had to sit out for a minute, but he was no worse for wear. He hurried back to the floor to guide the 13th-seeded Fords to a 34-28 victory over the 20th-seeded Green Raiders. The Fords travel to fourth-seeded Chester in the second round Tuesday.
Take a finger to the eye, John?
"Yeah."
Wanted to get right back out there, John?
"Yeah."
Seidman lets his game do most of the talking. He was outstanding, especially in the second half when his defense lifted the Fords out of an early rut. He amassed seven points and a pair of steals during the Fords' 17-4, second-quarter run.
"Everyone played great," he said. "We responded really well and we were playing well together and everyone had a big part in the way we played."
(click on this link for the full story)
Webmaster's note: Missed the game? Listen to the entire game on our archive file listed below. Go to our Broadcast Archives page for all game archives.
Podcast: Play in new window | Download