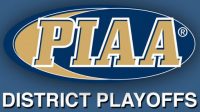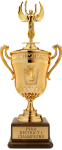 By Josh Verlin
As much as West Chester East's offensive attack is based around seniors Andrew Carr and Tym Richardson, Tom Durant implored the rest of his lineup to look out for themselves. With his Vikings clinging to a one-point lead over Penn Wood at halftime of the District 1 Class 5A championship game, Durant –– East's fourth-year head coach –– knew it would take some buckets from those who weren't part of the program's unfinished run to the district championship a year ago to finally bring it all home. 
"They're really just focusing on Andrew and Tym, so they just left us out there," junior point guard Mike Dedda said. "Coach [Durant] said be ready to catch and shoot, so that's what we were being ready to do out there: catch and shoot."
And indeed, when the offensive barrage finally came for East in its 67-43 win, it wasn't off the hands off Carr or Richardson: it was the other three starters, the three who started the season with almost no varsity experience for a program that graduated five of its top seven from a year ago.
(click on this link for the full story)
Webmaster's note: Missed the game? Listen to the entire game on our archive file listed below. Go to our Broadcast Archives page for all game archives.