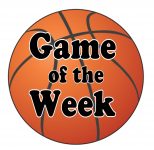 Chichester 53, Penn Wood 51 >> In a thrilling season opener the Chichester Eagles defeated Penn Wood in a game with multiple lead changes including a third quarter 7 point lead by Penn Wood.
Both teams had plenty of shot opportunities but appeared rusty after an on-again, off-again practice season due to Covid 19 restrictions.  
Foul shots were also a big part of the game, primarily due to both teams missing many of them.  
Josh Hankins was limited to just two points, but the Eagles didn't miss a beat, using 13 points from Isaiah Diggs to pull an upset. Ousmane Fofana added 10 points, and Ramir McDowell and Maz Sayed chipped in nine point apiece.
Evan Boward led Penn Wood with 14 points. Abdul Dublin chipped in 12 and Naeem Purnell scored 10 for the Patriots.
In another game last night Will O'Loughlin had 13 points to lead Bishop Shanahan to a 40-26 win over Sun Valley. Ryan Riotto had seven points and Zane Domsohn had six points for the Eagles in the Ches-Mont League win.
Chris Kwaidan led Sun Valley with eight points and Ishmal Glascow added seven.
Webmaster's note: Missed the Penn Wood vs Chichester game? Listen to the entire game on our archive file listed below. Go to our Broadcast Archives page for all game archives.
Podcast: Play in new window | Download