Marrero's defense saves day for Academy Park with 54-50 win

Tahriq Marrero scored 18 points, but his biggest contribution came on the defensive end in crunch time.
The Academy Park senior made two steals in the waning moments to help the Knights claim a 54-50 non league boys basketball win over Springfield.
Derrick Northern added 17 points in the victory. Academy Park's press led to turnovers and six straight points in the fourth quarter. The Knights also delivered at the free-throw line down the stretch.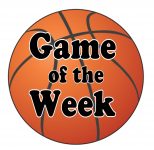 Cole Rhodes had a stellar outing for the Cougars, leading all players with 22 points. Freshman Michael Hoey chipped in with 10 points and six assists, while Brian Ward paired 10 points with five rebounds.
Webmaster's note: Missed the game? Listen to the entire game on our archive file listed below. Go to our Broadcast Archives page for all game archives.
Podcast: Play in new window | Download