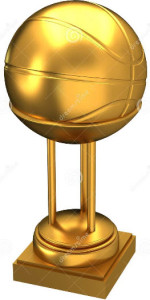 By Michael Bullock
Finally …
Back in a state championship setting for the first time in 44 seasons, when a one-point reversal at Harrisburg's Farm Show Arena spoiled a celebration, Reading's Red Knights took the Giant Center floor Saturday night hoping to erase those lingering memories.
And with a huge crowd offering all sorts of high-decibel support throughout — many of them fittingly decked out in red — let's just say those pulling for the Berks Countians were not disappointed when they hopped in their cars and headed for home.
Lonnie Walker was not about to let that happen.
Not to his team.
And certainly not to those who call Reading home.
Stuffing the stat sheet in the final game of his splendid high school career, Walker scored 22 points, grabbed eight rebounds, dished out three assists and registered four steals as Reading downed Pine-Richland 64-60 in the PIAA's Class 6A championship game before a record crowd that spent the night hooting and hollering.
"We finally did it," a grinning Walker cracked. "This is just for the city of Reading. There's nothing I can really explain that's going through my head, but I finally got that ring. I finally brought that state 'chip to the city of Reading.
(click on this link for the full article)