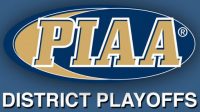 By Bob Grotz
No one shows up on game days at Garnet Valley sooner than Carl Schaller, who gets started so early he brings his own basketball because the others are still under lock and key.
Schaller also was one of the last players to leave Tuesday, the second-seeded Jaguars upset, 55-50, in overtime by 18th seeded Downingtown East in the second round of the District One Class 6A playoffs.
The junior guard scored 30 points on an assortment of crowd-pleasing drives to the basket. The Jaguars (20-3), however, needed 36.
Schaller and the seniors stuck around to reinforce what coach Mike Brown told them about completing the season on a high note.
"We've still got playbacks," Schaller said. "As a team we've just got to stay confident. The losses that we've had have been close games. We've got to stick together. We've got to make it to states. We've just got to win two games."