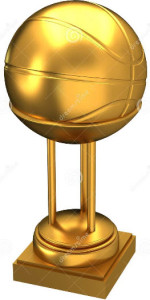 By Michael Bullock
Throughout the last few rounds of the PIAA's Class AAAA basketball championships, Allderdice's Buddy Valinsky talked candidly about having plenty of pieces to work with whenever his potent Dragons strolled on to the floor.
And, on most nights, having more pieces than the guys in the other uniforms that were parked just a few feet away on the opposite bench.
That, however, was not the case Saturday night.
Not with Roman Catholic in the house and aiming squarely for a repeat.
Despite falling into an early, double-digit deficit against an Allderdice side that was full of pep and chasing the same dream, Chris McNesby's remarkably calm Cahillites merely stayed the course and rallied for a 73-62 victory that reaped the perennial Philadelphia hammers their second consecutive PIAA Class AAAA championship.
Lamar Stevens poured in 27 points — the erstwhile Haverford School star was the one Roman starter that wasn't part of state title No. 1 — while Nazeer Bostick chipped in 15 and Tony Carr tacked on 13 as McNesby's no-panic Cahillites (27-4) stretched their season-ending winning streak to 10 games by completing the repeat run.