By Josh Verlin
The first time Penncrest faced Lower Merion, Mike Doyle admitted, his team wasn't ready. Hence the 24-point January defeat, by far the Lions' worst of its five this season.
"The moment was just too big for us," Doyle said. "We weren't ready for it. But I think we've matured."
If Monday night was any indication, Doyle's thoughts are correct. A day short of four weeks after getting blown out by Lower Merion, Penncrest took the court against Gregg Downer's bunch in a Central League semifinal at Strath Haven and did its best to return the favor.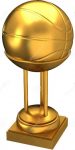 The final score of Penncrest's 56-48 victory doesn't tell nearly the whole story of how Doyle and the Lions finally got past Lower Merion for the first time in any situation, regular season or playoffs, since 2013-14. 
How the third-seeded Lions jumped out to a 30-10 lead on the second-seeded Aces, spending the first 15 minutes landing shot after shot against an Aces squad that played shell-shocked, air-balling shots and committing uncharacteristic turnovers. 
Webmaster's note: Listen to the Central League Boy's and Girl's Basketball Championships tonight, LIVE, right here on Delcohoops.com!