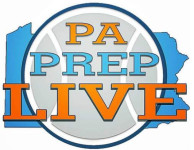 By Christopher A. Vito
He didn't have a hood pulled up, or a towel draped over his head. He didn't duck out a side door, either.
There was nowhere for Tyler Norwood to go. That was as much the case after the game as it was during.
Norwood, Delaware County's second-leading scorer, received constant defensive pressure Friday night. He struggled to find a sweet spot on the court. His shot was off, and Penncrest's hope at a lengthy state-playoff run went with it.
Penncrest, fresh off its first District 1 championship since 1969, bowed out of the PIAA Class 5A tournament with a 51-42 first-round loss to Hershey. The Lions' historic season came to an end at Marple Newtown High School, in a game they trailed wire to wire.
Norwood shot 8-for-30 from the field, including 1-for-11 from 3-point range, to finish with 17 points. He even missed his lone attempt at the foul line. Seemingly epitomizing his off night, Norwood's up-and-under layup attempt in the game's final seconds — an uncontested look at the rim — rolled out.
"My shots just weren't falling. Nothing I can do about it," said the junior guard. "My teammates kept me motivated, confident. I just kept shooting and it wasn't falling. It wasn't my night.
(Webmaster's note: The Hershey vs. Penncrest PIAA Playoff game was our Game-of-the-Week and can be heard on our Archives link on the left hand side of the page.)
(click on this link for the full article)