By Ryan Brennan
In a game that featured a 51-point scorer, a 36-point scorer and a 21-point scorer, it was a put-back layup attempt from an unlikely source that would prove to be the difference in Neshaminy and Lower Merion's double overtime thriller Wednesday night.
Chris Arcidiacono was outstanding all game for Neshaminy finishing with a game-high and school record 51 points, but it was Greg Deluca's offensive rebound and subsequent layup (his only made field goal of the night) that made him the hero of the game.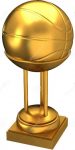 "I only got one but I sure as hell made it count," Deluca said, "I was struggling with the shot and getting down on myself during the game, but I knew I had to just keep going and one would fall and one did fall."
Trailing by one in the dwindling seconds of the second overtime period, Neshaminy had the ball in the hands of their star, Arcidiacono. He drove right but was unable to finish a contest layup. After the ball was juggled by multiple Neshaminy and Lower Merion players it wound up in the hands of Deluca who converted the layup attempt and sent Neshaminy into the PIAA 6A state quarterfinals with an  88-87 victory.