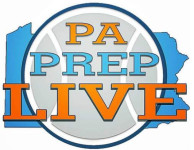 By Matthew DeGeorge
 Chalk it up to the delirium of the moment — to his proximity to mounds of Hershey kisses banked courtside like freshly-cleared snow — that caused Jack Nealon to veer from one extreme to another.
He was difficult to pick out of the crowd at Freedom High School Monday night, not just for the throngs of Abington Heights faithful streaming from the stands, their premature excitement turned briefly to rage then elated relief. The Comets' mop-haired junior guard was out of the niche he'd inhabited for 36 game minutes, with Bonner & Prendergast's Isaiah Wong unfailingly in his shadow.
"It was very fun. It was a challenge," Nealon said, the non sequitur intact. "I had to step up and take it and it was an experience. When I'm older, I get to say I got to guard a Division I player, so it's pretty fun."
Nealon isn't headed for the armchair in the den to spin tales of glory days past just yet — not, at least, until Abington Heights plays for its first PIAA Class 5A championship, thanks to an astonishing 56-51 overtime win over Bonner. But the tale of the Comets' triumph rests as much in the undersized guard as the mounds (not Mounds) of candy.
(click on this link for the full story)
Webmaster's note: The Abington Heights vs Bonner-Prendergast game was our Game-of-the-Week and can be heard on our Archives link by clicking on the player below:
Podcast: Play in new window | Download
Subscribe: RSS