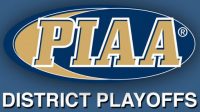 By Neil Geoghegan
It was a District 1 5A Playback game, but it meant everything to the Unionville boys' who wanted desperately to punctuate a regular season that included a share of the Ches-Mont American basketball crown.
The Indians did it with a forceful 62-43 victory over visiting Radnor on Wednesday, and it propels Unionville to its first PIAA Tournament berth in 14 years.
"We are trying to stay in the micro, and when it's all over we will take a step back and look at it," said Indians' head coach Chris Cowles. "It's a great accomplishment for these guys and they deserve it. It guarantees us another week of practice, so that's big."
Four days after a lackluster 11-point loss to West Chester Rustin in the quarterfinals, fourth-seeded Unionville (18-7 overall) bounced back impressively. The Indians will host No. 6 Strath Haven (17-9) on Friday in the district's fifth-sixth contest.
"We learned from Saturday (against Rustin) just to be ourselves and stay in the moment," said junior Sean Nealon, who poured in a game-high 23 points that included a long-range shooting exhibition.
"We were so disappointed in all aspects with what happened Saturday," Cowles added. "We weren't ourselves. So to come out and do what we normally do was good to see."