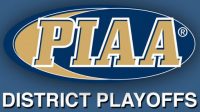 By Matt Smith
Springfield never forgot what it was like to lose to Mount St. Joseph in the District 1 Class 5A tournament.
Excuse the Cougars for holding a grudge.
"The last two years they bounced us out of the playoffs," senior point guard Alyssa Long said. "It was nice to get them back."
When Long and the other Springfield seniors were freshmen, they defeated Mount St. Joseph at Villanova University for the District 1 championship. It was the first district championship in Springfield girls basketball history.
But that was so long ago.
All that matters now is that the 2019-20 Cougars are about to play for another district championship. They will do so after conquering the Mount, 52-42, in the semifinals Tuesday night at Harriton.
"For the underclassmen, they have never beaten Mount, they have always been knocked out by them," said Long, who produced nine points and five steals. "We really wanted to change that story and we didn't want to get knocked out by them again. We came, we were ready to go in the locker room, and I think getting out to a quick start told us that we're a new team this year … and it was going to be a different story."