By Matt Smith
Bonner & Prendergast is the complete package.
The Pandas run, shoot and defend. And they have players who dominate the low post with their combination of size and athleticism.
They had some tough setbacks this winter, but are built for the long run in the PIAA Class 4A tournament.
After a 73-47 romp of District 3's Bishop McDevitt, the Bonner & Prendie girls team joined the boys team in their respective PIAA Final Four showdowns.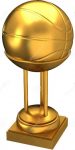 "This is our best team we've had in the last four years. We all want it," said senior guard Maeve McCann, who was outstanding. "We're all trying our very best. We've improved our defense so much, it's crazy. Having everyone's shots falling, and having everyone on the same page, it changes the whole entire game.
"Even from the regular season, we just have a whole new mindset."
Bonner & Prendergast will meet Bethlehem Catholic in the semifinal round Tuesday.