By Matthew DeGeorge
Alexa Abbonizio putting up big numbers on the basketball court isn't new around Springfield. But the Cougars' perennial pursuit of Central League and District 1 titles is often chronicled in terms of veteran leadership.
Once, Abbonizio was the underclassmen counterpoint to those leaders. Now as a junior, she's on the other side of the age divide, and she's providing the clutch plays to prove it.
Abbonizio scored a game-high 18 points, including all eight of the Cougars' points in the fourth quarter, as the top seed held off No. 6 Harriton, 40-32, in the Central League semifinal Monday at Strath Haven.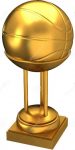 Springfield (19-4) advances to Tuesday's final at Harriton, where it takes on No. 2 Ridley.
Abbonizio supplied the only offense Springfield needed in the fourth, with two baskets and a perfect 4-for-4 from the free-throw line.
Webmaster's note: Listen to the Central League Boy's and Girl's Basketball Championships tonight, LIVE, right here on Delcohoops.com!