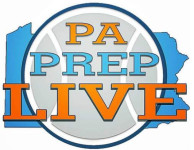 By Matt DeGeorge
The tears in Vinny DeAngelo's eyes Tuesday night weren't caused by the ankle he sprained in the first round of the PIAA tournament last Friday. But the extra fire he brought to Tuesday night's second-round matchup with Northern York was no doubt augmented by the pain in his leg, which kept him out of practice the last three days.
So with Sun Valley's survival in the PIAA Class 5A tournament teetering in the face of a five-point Polar Bears lead in the third quarter, no one had to ask DeAngelo to do a little extra.
"I just couldn't let that be my last practice," he said, first as vow to himself, then as a postgame sound bite.
DeAngelo led Sun Valley with 26 points and 10 rebounds, but in shutting down Northern York's Ryan McGill in the second half, he allowed the Vanguards to crawl back from that deficit to a 61-53 win Tuesday night at Garden Spot High School.
The win moves Sun Valley (21-7) into the quarterfinals to take on reigning PIAA champ Abington Heights. The District 2 champ eked by Mastery Charter North, 54-52.