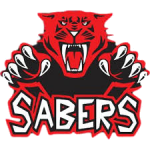 By Dave Burman
Chester Charter Sabers improve to 4-5 on the season by beating the Interboro Bucaneers, 70-57.
Davon Stovall, 5'11 senior dropped in 18 points for Chester Charter.
Kevin Miller, 5'9 sophomore (nephew of Chester High great and 1983 PIAA state champ Steve "Nurse" Miller), had 13 points as did Sean Deshields, 6'5 senior (grandson of Nether Providence High School basketball legend Lou Deshields). 
Breon Showell, 6'1 senior  also reached double figures for the Chester Charter with 10 points.
Interboro super sophomore guard, Abu Kamara scored 32 points.